OSA Volunteer and CNPS member, Dave Chapman
organized a series of three burn area surveys.
Burn Team volunteers included members of the
local chapter of the California Native Plant Society.
Burn started in an off-trail area of the preserve
and destroyed +/- 20 acres before it was contained.
The fire provided a unique opportunity to
increase our knowledge of plant regeneration.
Burn survey team members fan out looking for new plant growth.
Flames, extreme heat left this soap root a charred hull.
When new growth found, its location was noted
and when possible, the plant was identified.
We saw lots of this plant. Its leaves had a fleshy feel to them.
The leaves of this plant reminded me of a dandelion.
This one, of scarlet pimpernel.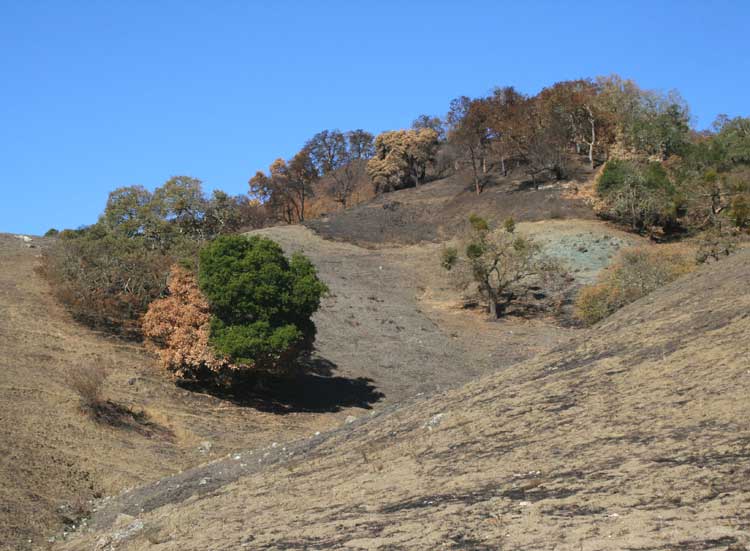 Diverse effects of fire on the landscape.
Only a small variety of plants have started to regenerate.
Team hikes past a patch of Narrow Leaf Milkweed.
Narrow Leaf Milkweed
California Fuchsia
Blue-eyed Grass
This fire-blackened CA buckeye should spring to life after seasonal rains.
Burn area mostly steep hillside grasslands.
Burn team nears an outcrop of serpentine.
Sensitive area fenced off to protect it from grazing cattle.
Team particularly on the look out for serpentine endemic plant species.
A partially burned outcrop of dudleya.
Burn team works its way to a forest area touched by the fire.
Coast live oak burned as the fire swept uphill.
Group works its way through a scorched section of oak woodland.
Team member inspects the inside of a partially burned oak.
Burn survey ended where the fire was halted by the Mayfair Ranch Trail.
Fire damage on a slope below Mayfair Ranch Trail.
Fire damage below Mayfair Ranch Trail.
Burn line between glassland and chaparral very apparent.
These oaks were singed but remain alive.
Fire seemed to have skipped around as it swept uphill.
View looking east towards Uvas Valley.
With spring rains on the way, these hillsides will turn lush and green.